Goals mean: to start off with things you have put into your mind you want to achieve.

Since there are many different goals in the world of dog breeding, and many different ways of getting there, I want to provide a brief insight here what the "Beautiful Companions" – Bonitos Companeros – have set for themselves as goals.

First of all, I want to mention the issue of enjoying being around the creature. In order to ensure that both the human and hence life partner of the dog, as well as the Cavalier, enjoy a high quality of life, it is important that the dogs are innately of good health.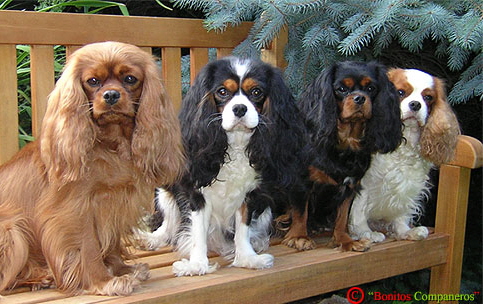 This is why I decided to build my breeding stock from an old and tried line that has been passing on good health and strong character for over three decades and has been undergoing a stringent selection process for these traits. Many relatives and ancestors are still alive at the old age of 14 and are in good health even then. Our breeding stock all undergo regular veterinary checks. A special chapter here is dedicated to a healthy heart. Our dogs participate in a long-term pilot project under the auspices of Mr Hagel/Hannover University Veterinary School. This pilot project relies on a dual ultrasound exam in order to examine especially the mitral valve for certain defects, the so-called Mitral Valve deficiency.

Since our breeding stock, as I have already mentioned, are checked for heart deseases before breeding with them, it is very important from a breeders' point of view to continue with this process. Only healthy Cavaliers are used for breeding.



Bonitos Companeros Flirt "Kylie"
Int.Ch. Rosscrea Diplomatic X Engl.Ch. Miletree Miesque

But we are not only concentration of the heart of our cavaliers. There are more health problems that we are checking here at Bonitos Companeros that are lying hidden in the genes of our beloved breed and other breeds as well.

I am talking about the so-called "phantom scratching", Syringomyelia, known among humans as the Arnold-Chiarie-Syndrome.
It is a challenge for responsible breeders to not only recognize this genetic defect but also to weed it out as much as possible.

What exactly is this "phantom scratching"?

Many Cavalier fans, as well as newly interested persons in the breed, have been asking us this question lately, and they are seeking answers, and rightly so. I thus want to briefly outline the symptoms, because it is important to me to set out the classical signs, as normal dog scratching has nothing to do with this genetic defect, which is abbreviated as "Syri".

The most important symptom is that it is really a type of phantom scratching, meaning that the dogs do not actually touch themselves with their paws but scratch in the air. Hence, typical dog scratching must not be misinterpreted as "phantom scratching".

During the attack, the entire dog looks very tense. The attacks rarely happen without provocation but mainly during times of stress such as when playing or periods of great joy. It is especially strong also when the dog is put on a leash, which is when symptoms worsen. This type of nerve reaction can also be brought about through massaging or petting in the neck region, precisely where a normal dog collar is located.

Before this noble breed of ours, which has made it all the way from the 15th century into our modern time, is pushed into a corner where it definately does not belong, we are being called upon as breeders.

There is definitely a need for clear information. If we look at the genetic defect in terms of the overall population, we can see that in its worst form it only appears in about 1.5% of dogs. While this may not be a reason to breathe easy, it is also not a reason for panicking out of control.

Our breed association, the CCD e.V. has included this disease into its health check index. This index means that also other diseases, such as heart valve insufficiency or patella luxation, have been reduced to a minimum in the past years through a careful breeding selection proves and examination that are mandatory from the side of the breeding association.

Bonitos Companeros Cavaliere with the nieces Carolin and Lea

As a result the deseases - for example heart or patella luxation - were reduced to a healthy level.

What exactly does this mean?

Since the CCD now also has included Syringomyelia into its selection criteria, all known dogs are being marked accordingly, so that the breeders are informed when it comes to influencing the passing on of this genetic disease in terms of their paring selection.

This is a very important aspect for our Cavalier King Charles Spaniel breed.

I hope to have broken a bit through the tabu zone of that subject for us breeders. We, here at "Bonitos Companeros" inform our puppy buyers.


In summing up, I would like to emphasize that we are not hysterical by any stretch of the imagination! Being informed is still the best method to solve a problem. With our voluntary selection process, we are on a good path.

Our litter planning process is always based on the background that we strive to keep undesired genetic factors, such as heart problems or Syringomyelia, as small as possible. I am more than prepared for this.